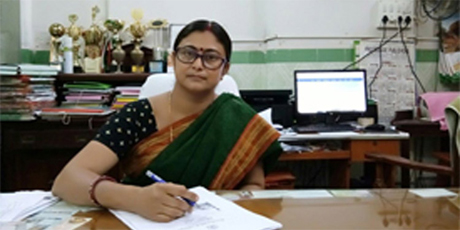 Dr. Sujata Bagchi Banerjee
Principal
| | |
| --- | --- |
| Father's/Mother's name: | Dilip Kumar Bagchi |
| Name of the Spouse: | Koushik Banerjee |
Father's/Mother's name:
Dilip Kumar Bagchi
Name of the Spouse:
Koushik Banerjee
Date of birth:
01/01/1970
Name of the college:
Krishnath College
Date of joining:
09/12/2017
Previous experience in any other college:

Bolpur College 22.09.1997 to 15.11.2006 (Assistant Prof.)
Lalgola College 16.11.2006 to 15.05.2015 (Assistant Prof. to Associate Prof.)

Educational qualifications:
M.A, B.Ed, Ph.D, NET
Total experience (Teaching /research/administrative) in years:

Teaching/Administrative experience in college/universit
Name of the institution
Date of joining and designation
Post held up to
Duration
Total length of teaching experience
Bolpur College
22.09.1997
9 years
22 years
Lalgola College
16.11.2006
9 years
Krishnath College
16.05.2015
5 years and 1 months
(Administrative and Teaching)
P.G. Teaching
More than 10years
Kalyani University, Rabindrabharati University and Netaji Open University ( at Krishnath College and Berhampore Girls' College)

Research experience in college/university/institute
Name of the institution
Date of joining and designation
Post held up to
Duration
Total length of teaching experience
Bolpur College
Assistant Prof. 2000 to 2007 (P.hD Scholar)
P.hD Scholar
7 years for Ph.D Works
Lalgola College
Assistant Prof. (UGC MRP project 2012-2014 Principal Investigator)
Principal Investigator
2 years
Lalgola College & Krishnath College
UGC MRP Project 2014-2015 Principal Investigator
Principal Investigator
2 years
Krishnath College
Supervisor of Ph.D work from 2019
1 year

Administrative experience in college/university/institute
Name of the institution
Date of joining and designation
Post held up to
Duration
Total length of teaching experience
Lalgola College
Assistant prof. and Associate Prof. (Head of the Dept. of the Bengali) Programme officer NSS
9 years
(HOD + TCS + Programme Officer) = 9 years
Krishnath College
Principal
5 years and 1 months
(9+5)= 14 years

Research Area and Ph.D and Post-Doctoral Research Work

Dr.Sujata Banerjee completed her Ph.D. work from Visva Bharati and title of her Ph.D. work is Rabindranataker Rabindrakrita Ingreji Anubad: Melanugatya O Sristi under supervision of Prof. Amitrasudan Bhattacharya, Visva Bharati. Her thesis area revealed not only literary and philosophical thought of Tagore English and Bengali plays, but also outlook of British Colonialism over Indian Society and also orientalism. On the basis of her theirs she wrote three books and number of article in reputed journals. These books were criticised by national and international reviewer also.

Her two post-doctoral M.R.P research on Rabindranath Tagore's educational thought named Rabindranath Tagore's trans creation of his own plays for teen agers: A comparative study of Indo-Bangladesh Bengali Literature written on Partition and Migration Problem: Present Perspective. Another Post-doctoral M.R.P is on Partition studies, it reveals the Indo Bangladesh socio-cultural and literary studies on partition and migration problem.

Brief description of research work, including publications, Ph.D. guidance, projects run, etc. during service in college:

Research Publication by Dr.Sujata Bagchi Banerjee, Principal of Krishnath College,Berhampore.

Text or Reference books published by National publishers with an established peer reviewed system:-

Subject books by National/Local Level Publisher with ISBN/ISSN Numbers.

Rabindra anubade Rabindra natok rupantarita sristy (Bangiya Sahitya Samsad), August'2011, Kolkata ISBN 978-89827-74-8 (Sole Author).
Raktakarobi Red Olenders Parul Library private Ltd, April'2014, Kolkata ISBN 978-81-9222584-0-9 (Edited book).
Oupanibeshikata,anubad prasangya Rabindranath, Bangiya Sahitya Sansad (Sole Author) ISBN No. 978-93-83590-23-0, May'2014.
Prasanga adhunik kabi o kabita mon o mononer katha (Sole Author) Sahityosangy, Kolkata, ISBN 978081-920939-0-1(Sole Author), December'2011.
Rabindra anubade Rabindranather kishor natok (Sole Author) Akash Publisher, February'2014.
Murshidabad o kichu ujjal beaktito,Murshidabad jela itihas chorcha Kandra, December'2011.
Edited Book:-Sahitya,Samaj o Darshan Bhabnai Vivekananda,Bangio Sahitya Samsad, March'2015, ISBN- 978-9383590-76-6
Kabita Prasanga ebong onamya Nandanik, March, 2006.
Parabase Paravase Madhusudan, Rabindranath o onamya, Akash January, 2008.
Desbhag O Bangla Sahitya : Bartaman Prekhshite , 2015

Chapter contributed to edited knowledge based volumes by Indian – National Level/Local Level publishers with ISBN/ISSN No. :

Sristyr Rupantar Muktadhara thake The Water fall,Rabindranath Akhan (ISBN 81-7694-060-7). May, 2004, (Purba).
Kuri akush shatakar nary Oupanyasik-Sangyta Bandyopadhyay ISBN 9789 381 245-36-1. January, 2014, (Ashadip).
Sonartary Bhabonar Dikdiganto – Sonar Tory Kabya Rabindranathar Martajybanpryati – ISBN 978-93-81329-15-3. February, 2012 (Ratnabali).
Shashar Kabita Upanyasar Kathashilpo – Kabir Lakha Upanyas ISBN 978-81-921883-8-6. July, 2013 (Art publishing).
Prosango Probandha o Samalochona Sahitya – Adhunikata O Rabindranath ISBN 978-81-89-82-77-1. July, 2011 (Bangio Sahitya Samsad).
Adhunik Bangla Chotogalpo o kabita chyatonar bichitra saroni – Chor ISBN 978-81-920939-6-3. November, 2011 (Sahitya Sangi).
Akushar Bakti Jibon o samajbikkhan, Sukanta Gangopadhyay Abokash ISBN 23205385. Oct, 2014.
Rabindranatya Charcha- Mukut o Crown ISBN – 978-93-83016-42-6. April, 2015 (Pragha Bikash).
Snatak Abyasik Bangla Samiksha,Sahitya Sangi, August,2010.
Naba Chatanai Banganari, January, 2015, ISBN-978-93-8 1245-56-9 (Ashadip).
Sikhsabhabnai Rabindranath o Vivekananda,Mankar Ramkrishna Sikhsa Yatra,November,2012.
Prasanga Haraprasad Sastri,Murshidabad Anusandhan,Murshidabad Itihas o Samaskriti Charcha Kendra, February,2012.

Research and Academic contributions:

Research papers published in –

Referred Journals & indexed Journals –

Edulight – ISSN 2278-9545, Multi disciplinary Bi-annual & peer reviewed Journal: Vol-2, Issue 4, November-2013 Notyr Puja o Dancing Girls worship.
Sahitya Daskal (An International Yearly Bilingual Literary Magazine, 5th Year 1420) (ISSN No. 2320-012X) Kabi o natyokar Lorka o Bangla Kabita.
Positive Attitude,Bulletine No.25 & 26,1-14 August,2011 Rabindranath Tagore in the West.

Referred Journals:

VisvaBharati Patrika- shraban posh 1414 – Rabindranather noyti Natak anubadak Jakhan Rabindranath.
VisvaBharati Patrika – Kartik posh 1420 – Desh Patrikai Rabindracharcha.

Non referred Journal:

Balaka - ISSN- 2230-9381 March 2013 Kabitar Bisoy Jakhan Rabindranath.
Balaka - ISSN-2230 9381 Dec 2011 Rabibaloyer Jotirmoyeera.
Kabitirtha - ISSN-0974 7583 June 2009 Ashapurnar Atmaannewsan.
Kabityrtha - ISSN- 0974 7583 May 2011 Rabindranather Natok King and Rabel.
Kabityrtha – ISSN – 0974 7583 July 1983 1845 er Snalo Anubad.
Balaka – ISSN- 2230 9381 November 2010 Rabindranathkrita Rabindra Natoker Anubad.

Chapter in non-referred journal

Rabindranath and Prasanta Chandra, Korok, Sept-Dec, 2007.
Edward Thamsen and Rabindranath,Korok, Sept-Dec,2008.
Manik-srita Nana Rager Bengali, Korok, Jan-April, 2008.
Kobi BankimChandra, Prajanma, February, 2013.
Kobi Dijendralal, Chetana, November, 2013.
Vidyasagar o Rajnarayan Basu, Udar Akash, Boimela, 2011.
Bigganvitik Rachani Ramendrasundar, Balaka, December, 2009.
Dijendralal Roy-r The Lyrics of Ind, Rodrang, winter, 2014.
Vivekanandar Kabita, Chetana, January, 2012.

Translation/Creative Writings and Storybooks/Stories and Poems

Four Stories in Japanjuddhe Meyara, (Amara) January, 2014.
[Two Translated stories of Milan Kundera]
Milan KUndera galpa samagra (kabitirtha), August, 2014,
ISBN- 978-81-923673-7-8.
Chutir galpa, Berhampore Boimela, February, 2014
(Short Stories for Children).
Nil Pakhir Palak (Novela) Chira Sabuj Lekha Sishu Kishor Academy,
February- April, 2012.
Hobe Babur Golpa, Anandame La (Rabibasariya) Ananda Bazar Patrika.
Poem- Daily passergery-Desh, 2, April, 2010, ABP.
Poem- Bath Tabe Jalpari, Ananda Bazar Puja Number 2012.

Conference proceedings as full paper

Bharat Vidya – Vol-II,edited by Prof. Bhaskar Chattopadhyay – Annual Conference – 2003 Indian Myth in Tagore's Dramas and its Reflection.
Sripat Singh College, UGC Seminar Proceedings March -2012, Rabindranath o Bharotyotta – Rabindranather English Natokar Bharat, Chatana o Oupanibeshikatar Pravab.ISBN-81-89820-45-9
Subhas Chandra Bose Centenary College , UGC National Seminar 23 Feb 2012, ISBN- 978-93-82045-65-6, Rabindranather Pally unnayon Bhabona , Rabindrabaloer Jotirmoyeera Garmin Lokosanskriter unnoyne o Nary, Prokitir Bikase Rabindranath.
Kandi Raj College UGC National Seminar, 9-10 Jan 2012, ISBN- 978-81-924432-06 Rabindra Utsahe Mahakas Charcha.
Jangipur College: Sardhashatabarsa Utjapan Committee Oupanibashikatar Syratantrik chap o Rabindranather English Rachana. ISBN-978-81-9211- 883-00
Bharatbidya charcha – Bardhaman- Vol- II, Rabindranather Dristi o Bharotyo Samaj o Sanskriti, Ouanibeshikater chap o Rabindranather English Rachona.
UTUC- UGC National Seminar 27th & 28th March 2014, ISBN-978-81925536-1-0
Swami Vibakananda: Sahitya o Darsane ayttijha o Adhunikata

Invited Lectures

33th Murshidabad Book fair 2013-2014

Sub- Sardhashatabarshe Ramandrasundar Tribedi

Areas of Consultancy and income generated

Prof. Dr. Sujata Bagchi Banerjee:-

Resource person of Kanyasree Prakalpa – Public lecture in 'Tathya o
Samaskriti Daptor' – 2014 in Several Schools in Murshidabad District.
N.S.S. Programme officer in Lalgola College (2011-2014)
Examiner of M.A (Bengali internal papers) to university of Kalyani-2015
Examiner of M.A (Bengali, Netaji Subhash Open University) – 2007

Publication – 2016-2018

Ishwar Chandra Vidyasagar o Madanmahan Tarkalankar Mukhyatar Tanaporan Sahitya Chatana sanskriti Bisay Patrika January 2016 ISSN 2350-0948.
Indira Devi O Pramathanath Chowdhuri Jyothajapaner Surbahar – Abakash Sahityapatra – September 2016 ISSN – 2320-5385.
Thakurbarir Pasak Katha - Anuprash –ISBN 2394-6024 vol-4 ISSUF 'BASAN BHVSAN' January,2018.
"Khasiyochi Pan thake Sanskarer Chon" Bish Sataker Sesh Tin Deshke Meder lakha- Bish Sataker Sesh Tin Deshke Banglar Samaj, Sahityo O Sanskrity – ISBN 978-81-927759-5-6.
Sudhu Alar Janyo: Saral Tamay Abhibakti Samikhar Aloy Nadiar Kabita ISBN-978-93-87058-18-7 Pratibash January, 2018.

International Publication

Dhara Diachi Go Ami Akasher Pakhi Rabindranath Nana Prasanga – Grantha Kutir, Bangla Bazar Dhaka – 1100 ISBN – 978-984-21-0148-9

Chapter in a book

Mobarak O Jebunnisha : Manabatar Khala Batash – Bankim Upanash Samikhya January, 2016 Pakashak Ratnabali ISSN – 978-93-81329603.
Sri O Sitaram : Adarsha O Manabik Rahashamayatar Danda Bankim Upanash Samikhya January, 2016 Pakashak Ratnabali ISSN – 978-93-81329603.
Ramayan Uttarcharit O Sitar Banabash – Amiya Praktani Berhampore Girls' College – ISBN 978-81-927259-4-9, November, 2016.

Seminar / Workshop / Conference

Workshop for Orientation / Awareness Programme on NAAC accreditation 10/9/2015, University of Kalyani.
U.G.C HRDC sponsored Principal's workshop March 19, 2016, University of Calcutta.
The National Literature Association Award 2015, 16.04.2016, Dhaka, Bangladesh.
U.G.C HRDC sponsored Principal's workshop – Academic Leadership in Higher Education: The contemporary Indian Perspective – march18, 2017, University of Calcutta.
National Level Seminar on 19.02.2017 Bis Sataker Sesh tin dasak As resourse – person Berhampore Girls' College.
Bharat Lekhok-Milonotsab – organised by Yoti Paribar 16th March, 2018 Felicitation and award, Rajsahi , Bangladesh.
International Seminar on 'Bangla Sahitya Deshbhag' organised by Rasahi College As resource person and Felicitation by teachers' council, Rajsahi College , Bangladesh 18th March, 2018.

Awards / recognitions received, if any, during service in college:

Award (National & International)

The National Literature Association Award 2015, 16.04.2016, Dhaka, Bangladesh.
Bharat Lekhok-Milonotsab – organised by Yoti Paribar - Felicitation 16th March, 2018 Felicitation and award, Rajsahi, Bangladesh.
Sara Bharat Bangla Choto Galpo Pratijagita, Maya Megh 2015, 3rd prize.
'Sat Adhyapika (Honest Prof) award from 'Namitangan'

Outstanding contribution/innovation made in brief, if any, towards teaching/learning /examination /evaluation methods during service in college:

Social Service as Teacher and Principal

In her teaching life she served to help so many students of urban and rural area. When she worked as one of the founder prof. of Lalgola College, she served minority based poor-students of Border area. She was founder of N.S.S. of Lalgola College and founder programme officer of Lalgola College and her service period in that college students participated in 26th January National Parade, adventures programme and blood-donation camp, Kanyashree programme, development and so many social awareness programme. She was head of the department of Bengali and her 1st generation students stood position in University exam also.

Outstanding contribution/innovation made in brief, if any, towards betterment/modernization of college administration:

As 1st lady Principal of 167 years old heritage college, she tried her best to develop this reputed Krishnath College in a new era only within her near five years service as Principal in this college, got 'A' grade in NAAC accreditation, got heritage status from West Bengal Heritage Commission, achieved RUSA grant, achieved best college of K.U. award from M.S.D, started 04 P.G. courses and new two under graduate courses and now upgrade to college to University.

Outstanding contribution made in brief, if any, towards betterment of society in general during service in college:

She stretched her hand to open a new primary school in a poor village in Gurudaspur, Murshidabad, She adopted tribal village Nimtala at Hatinagar panchayet by NSS and continuously tried to help people of there village by Health awareness camp, plantation programme, children health and education programme etc. She is also disciple of Ramkrishna Mission and try to help society with mission of Swami Vivekananda.